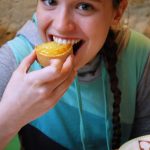 Gudrun, ein Mitglied unserer Facebookgruppe "Zöliakie Austausch" hat uns ihren Reisebericht über ihre glutenfreie Erfahrungen in Belgien, Holland und Paris an Ostern 2014 zugesandt. Wir haben als Service alle Restaurants gleich verlinkt.
Den Artikel möchten wir beispielhaft für den Gruppengedanken des "Austauschs" auch hier unseren Bloglesern zeigen. In unserer Gruppe werden täglich hunderte von Beiträgen geschrieben, Fragen rund um das glutenfreie Leben beantwortet, Tipps und Rezepte getauscht und auch Restaurantempfehlungen gegeben. Mittlerweile ist die Gruppe mit über 3.300 Mitgliedern (Stand 29.04.2014) die größte deutschsprachige Facebookgruppe zum Thema Zöliakie und Glutenunverträglichkeit.Und nun hier der Bericht, nochmals viele Dank an Gudrun
Belgien:
Generell gibt es in den Supermärkten in Belgien eine relativ gute glutenfreie Auswahl. Ich war hauptsächlich in Leuven und habe dort im Carrefour, Delhaize und Denon eingekauft. Carrefour hat eine glutenfreie Eigenmarke, die ich jedoch nicht probiert habe. Delhaize hatte einige Sachen von Schär, Poensgen und Gerblé. Denon hatte mit Abstand die größte Auswahl – von superleckeren Brownies von Damhert, über gefrorene Torten bis zu Broten von Fria. Glutenfreies Bier hab ich in normalen Geschäften keins gesehen, jedoch findet man in Belgien öfters reine Biergeschäfte, die dann auch ein paar gf Sorten haben).
Bei den Tagesausflügen innerhalb von Belgien haben wir meistens etwas zu essen mitgenommen, oder Pommes gegessen (in einer Frituur gibt's oft nur Pommes, daher braucht man sich wegen der Kontamination keine Sorgen machen).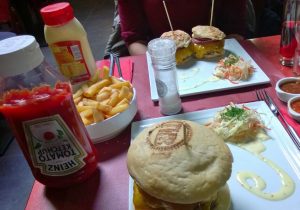 The Huggy's Bar (Liège/Lüttich): Sehr zu empfehlen. Dort gibt es eine riesengroße Auswahl an Burgern, die alle auch glutenfrei möglich sind. Man sollte jedoch sowohl wegen einem Platz als auch wegen dem glutenfreiem Burgerbrot vorher anrufen!
The Capital (Leuven): Bar mit über 2000 verschiedenen Bieren, von denen 2 sogar glutenfrei sind. (Einfach beim Kellner nachfragen)

Holland:
Von Holland war ich ein wenig enttäuscht, da ich dachte es würde bei Albert Heijn eine viel größere Auswahl an glutenfreiem geben. Das Angebot war ganz ok jedoch nicht überwältigend. Nur die glutenfreien Brownies von Damhert waren um einiges billiger als in Belgien. Ansonsten gab es noch im Reformhaus De Tuinen ein sehr großes glutenfreies Sortiment (Schär, Poensgen, 3Pauly und Marken die ich nicht kannte).
Picnic(Amsterdam): Sehr gutes kleines Restaurant. Für 10 Euro bekommt man 3 Kleinigkeiten (warm oder kalt, z.b. Sandwich, Suppe,…) und ein Getränk. Fast alles von den normalen Speisen ist gf und es gab auch einige Nachspeisen.
Bagels&Beans (mehrere Filialen in ganz Holland): Es gibt einen glutenfreien Bagel, der dann in allen Varianten bestellt werden kann.
La Cubanita (Amsterdam): Es gib dort Montag – Donnerstag ein Tapas All you can eat für 17,50€. Ich bekam eine Liste, auf der Stand welche der Tapas glutenfrei sind. Essen war in Ordnung aber nicht wirklich berauschend, und dass die gekennzeichneten Tapas glutenfrei sind, hätte man sich auch so wo anders erfragen können.
Paris:
In Supermärkten hab ich eigentlich nichts glutenfreies gefunden, ich war aber auch nur in sehr kleinen und hab nicht speziell gesucht. Dafür gibt es einige Restaurants/Bäckereien:
Helmut Newcake: Ein Paradies für Zölis – Kuchen, Torten, Tartlettes, Éclairs – alles was das Herz begehrt. Absolut empfehlenswert! Außerdem gibt's es jeden Tag Tagesgerichte (Pizza etc.) und Sonntags einen Brunch – hab ich jedoch beides nicht probiert.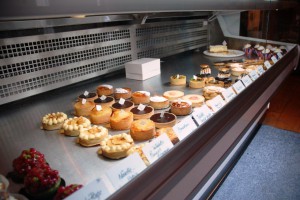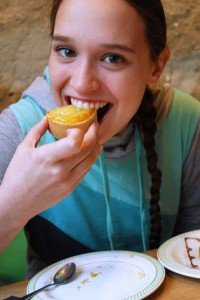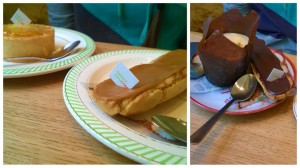 Noglu: Kleines glutenfreies Restaurant, bietet Samstags auch Brunch an. Hab hier aber nur einen Cup Cake gegessen, der aber sehr lecker war.
Eric Kayser: Bäckerei, die glutenfreies Brot und 1 Sorte Clubsandwich anbietet (leider nur mit Thunfisch). Jedoch nur in der Hauptfiliale verfügbar!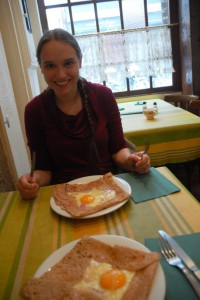 Crêperie Aux Ducs de Bourgogne: Sehr nette kleine Crêperie. Um 14.50€ gab es ein Menü mit 1  Galette, 1 Crépe und 1 Tasse Cidre. Die Galettes waren sowieso glutenfrei (aus Buchweizenmehl) und die Crêpe wurde auf Anfrage ebenfalls glutenfrei gemacht.
Pizzeria O'scià: Es gab glutenfreie Pizza, war zwar sehr gut aber auch sehr klein (und das für ca. 15 Euro). Sie bieten jedoch auch ein glutenfreies Menü mit Vorspeise, Pizza und Brownie als Nachspeise für 20€ an. (Ich hatte eine Art Auberginen Lasagne als Vorspeise – war ausgezeichnet)
Gastbeitrag von Gudrun aus unserer Facebookgruppe "Zöliakie Austausch"