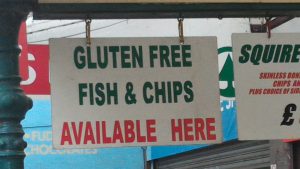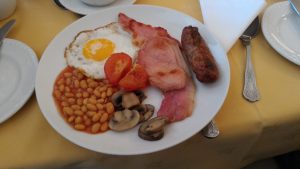 Jetzt ist unser Urlaub tatsächlich schon fast zwei Wochen Vergangenheit. Dennoch will ich euch nicht verschweigen, wie der Urlaub im Süd-Westen Englands gelaufen ist. Ursprünglich war der Aufenthalt in Cornwall geplant, durch die Hotelauswahl verbrachten wir den Urlaub aber in Devon.

Vorbereitung ist Alles
Da man als Zöliakiebetroffener nie ohne Vorbereitung auf Reisen gehen sollte, habe ich das natürlich auch sorgfältig gemacht und das Hotel (bzw Guest accommodation) entsprechen ausgewählt.


Amber House – Paignton

Fündig wurde ich über das "
Gluten-Free, Wheat-Free UK Travel Directory
". Hier die Seite für den Südwesten Englands. Ich schaute mir ein paar Seiten an und entschied mich für das
"Amber House
" in Paignton an der
englischen Riviera
 Warum kann ich jetzt eigentlich nicht genau sagen. Wichtig war, dass es ein gf Frühstück gibt und das dieses Sicher ist. Dazu fand ich auf der
Homepage des Amber House
folgendes: "Order a full English Breakfast confident in knowing that all items are gluten free and cooked separately from items containing gluten." – "We have a dedicated toaster for gluten free products." – "We use separate tongs to handle gluten free food." – usw. Das alles auf der
extra Seite zur glutenfreien Ernährung
. Da nicht immer alles Gold ist, was dem Zöli entgegenglänzt, ließ ich mir dies in der Buchung auch noch einmal bestätigen: "Dear Heiko, Thank you for booking with us, I can confirm we offer gluten free breakfasts, including GF bread, GF sausages and GF cereal. There is also complementary afternoon tea, coffee and cake available every day and I will include a GF cake for your stay." Was will man da noch zweifeln?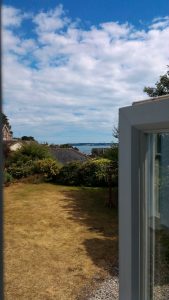 Alle Versprechen wurden locker gehalten und sogar übertroffen. Die in Hotels übliche Mappe mit Informationen zum Hotel und er Umgebung, beinhaltet sogar Restauranttipps mit entsprechenden persönlichen Kommentaren zum gf Angebot. Darüberhinaus liegt noch eine ausführliche Mappe im Gemeinschaftsraum bereit.
Wir werden in den nächsten Jahren Amber House sicherlich erneut besuchen. Euch kann ich es ohne Einschränkung empfehlen.
Anreise

Die Anreise nahmen wir über den Flughafen London Stansted (vom Flughafen Weeze aus) und der abschließenen Tour mit dem Leihwagen in Angriff. Hier sollte man offensichtlich in den UK etwas mehr Zeit einplanen. Aus den von Google prophezeiten rund 4 Stunden wurden 5 ½ Stunden mit einigen Staus. Uns wurde das bei der Ankunft noch als gute Zeit attestiert. Abgesehen davon, ist die Rechtssteuerung und das Linksfahren schon eine andere Art des Autofahrens. Das soll aber nicht unsere thema hier sein.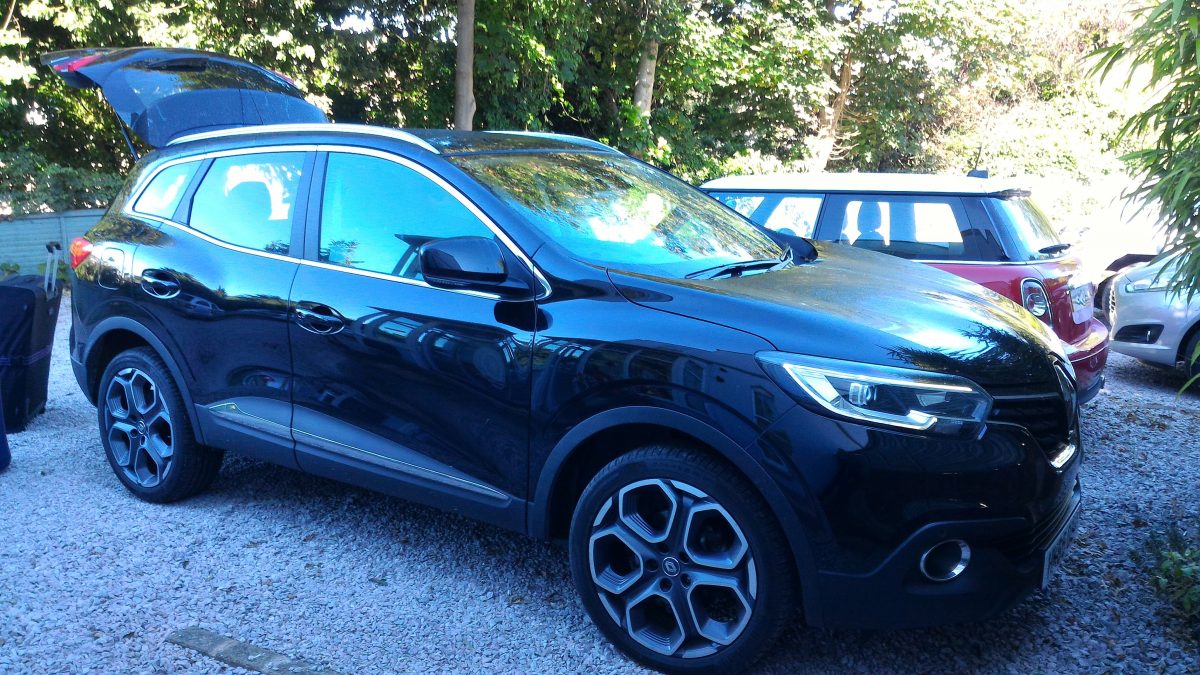 Während der Fahrt nach Devon ließ sich meine Frau (unser Nicht-Zöli, Betroffen sind unser Sohnemann und ich) zu dem Satz "Willkommen im Zöliparadies!" hinreißen. Ein Satz, den man häufiger über Urlaubsziele liest. Daher war ich sehr skeptisch, muss aber Vorweg schon Spoilern: Es ist verdammt nah dran am Paradies…
Neben der unglaublichen Landschaft gibt es in der Tat eine ordentliche Auswahl an Restaurants mit gf Auswahl. Wie überall, muss man aber zuvor das Gespräch mit der Bedienung suchen, um die Eignung für Zölis zu prüfen. Man trifft aber durchgängig auf kompetente Mitarbeiter, die einen nicht mit großen Augen anstarren.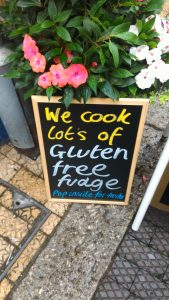 Da es sehr viel für Familien mit Kindern (oder auch für solche ohne Kinder) zu sehen gibt, sind unsere Erfahrungen regional tatsächlich auf die englische Riviera eingeschränkt. Beim Besuch von Stonehenge (die einzig längere Tour) haben wir dank des sättigenden englischen Frühstücks überhaupt nicht ans Essen gedacht. Übrigens durchgängig ein Problem mit dem Frühstück. 😉
So konnten wir uns überhaupt nur 3x zum Abendessen durchringen. Ein Restaurant besuchten wir dabei 2x. Die beiden Restaurants befinden sich beide in Paignton, da ich keine Lust hatte nach dem Essen noch Auto zu fahren. Leider ist mir einmal sogar der Fehler unterlaufen, vom Essen kein Foto zu machen. Schade, dabei sah es soooo toll aus, schmeckte entsprechend und war auch tatsächlich gf.

Food Standards Agency
Fakt zwischendurch: In den UK werden Restaurants (bzw. jede Küche) ebenfalls auf Sauberkeit geprüft, wie es auch in Deutschland gemacht wird. Entgegen der Praxis in Deutschland verkündet aber ein Aufkleber an der Tür das Ergebnis. Ich persönlich fühlte mich dadurch noch sicherer, auch wenn es keinen verbrieften Zusammenhang zur Kontaminationsfreiheit der Speisen gibt, scheint es mir logisch, dass eine saubere Küche mit entsprechenden Kenntnissen eine höhere Verlässlichkeit verspricht. Am Ende aber eine Empfindenssache. Hier gibt es Infos zum Rating, sowie eine entsprechende Datenbank: Food Standards Agency .
Restaurants:
TJ's – The Restaurant by The Harbour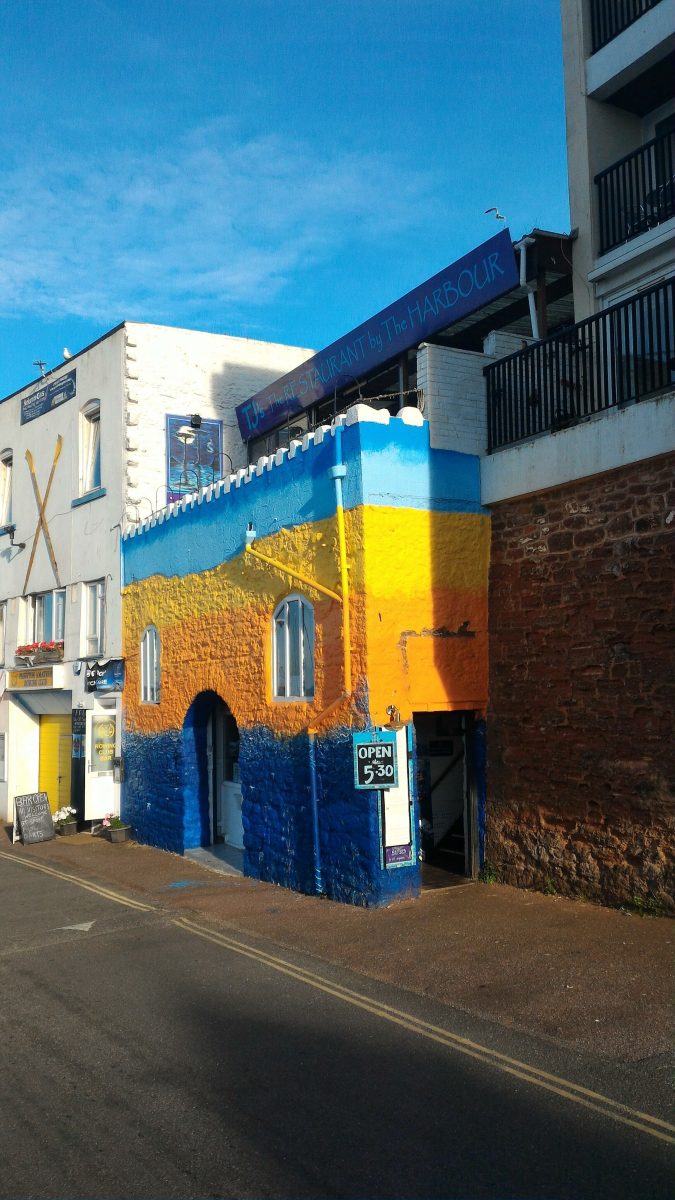 Squires of Paignton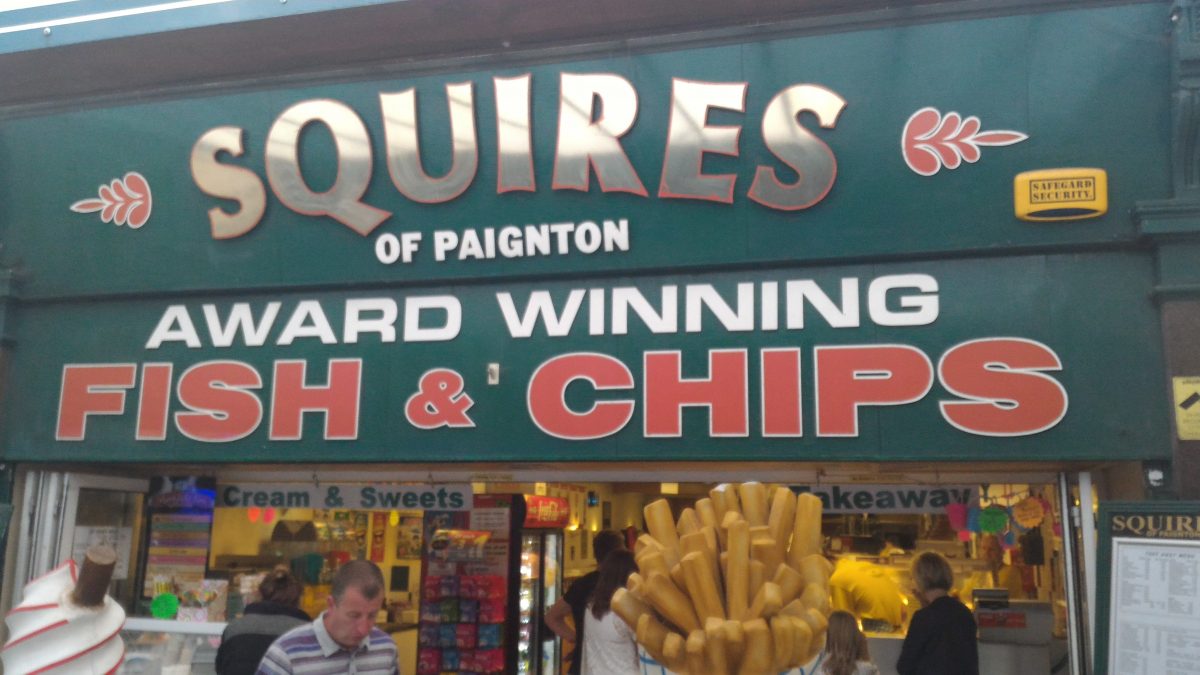 Aber auch darüberhinaus gab es einige Restaurants, die wir hätte besuchen können.
Kleinigkeiten
Bei den Ausflügen, haben wir uns aber auf gf Kuchen (Brownies! Immer und fast überall Brownies!) etc. konzentriert, die es fast überall gab. Außerdem auch mal auf ein Sandwich oder ein Wrap.

Natürlich haben wir auch neugierig einige Supermärkte besucht und wurden nicht enttäuscht. Ganz im Gegenteil: Ich habe vor Auswahl nicht einkaufen können. Da muss wohl ein Folgeurlaub her.
Großeinkauf?
Angeschaut haben wir uns: Tesco Metro, Sainsbury und Coop. Und überwältigt waren wir bei allen. Deshalb hier ohne Ton ein paar Impressionen:

Alles in allem ein toller glutenfreier Urlaub. Die Unterkunft war toll, das Frühstück dort war toll, die Restaurants waren toll und die landschaft ist toll!
Habt ihr Fragen zum Urlaubsziel Süd-West-England, dann schreibt mich einfach über Facebook an. Ihr findet mich als Admin der Zöliakie Austausch Gruppe.